As long as the P graph technology is good enough, it can also advocate environmental protection
Recently, it has been heard that extreme environmentalists have entered major art galleries around the world and destroyed famous paintings, spraying paint on the paintings, throwing various kinds of food on the paintings, and sticking their hands on the paintings. Most of the reasons are to improve the climate, stop the use of stones and other environmental demands. But does destroying the museum's collection and damaging famous paintings really achieve these aspirations?
Why bother with famous paintings? There are many ways and means of expression, which do not have to be vandalism and violence. For example, Samsung recently hired the digital artist Quentin Devine to alter the world's most famous paintings in response to the call of COP27, the United Nations Climate Change Conference in 2022. To draw attention to vulnerable countries suffering from climate disasters.
Compared with the atrocities of those extreme pictorial activists, Samsung's approach is more creative, reasonable and gentle. When modern environmental problems are put into the scene of historical oil paintings, the contrast between the original and the second change is shocking and can serve as a warning.
John Constable's European summer of blue sky, white clouds, lush trees and rivers would not have existed had it also experienced extreme heat and poor rainfall.




Illegal dumping and pollution of the river are the main culprits in the destruction of the natural landscape. When abandoned sofas and mattresses occupy Richard Wilson's works, even the peaceful and beautiful scenery of the Thames is destroyed.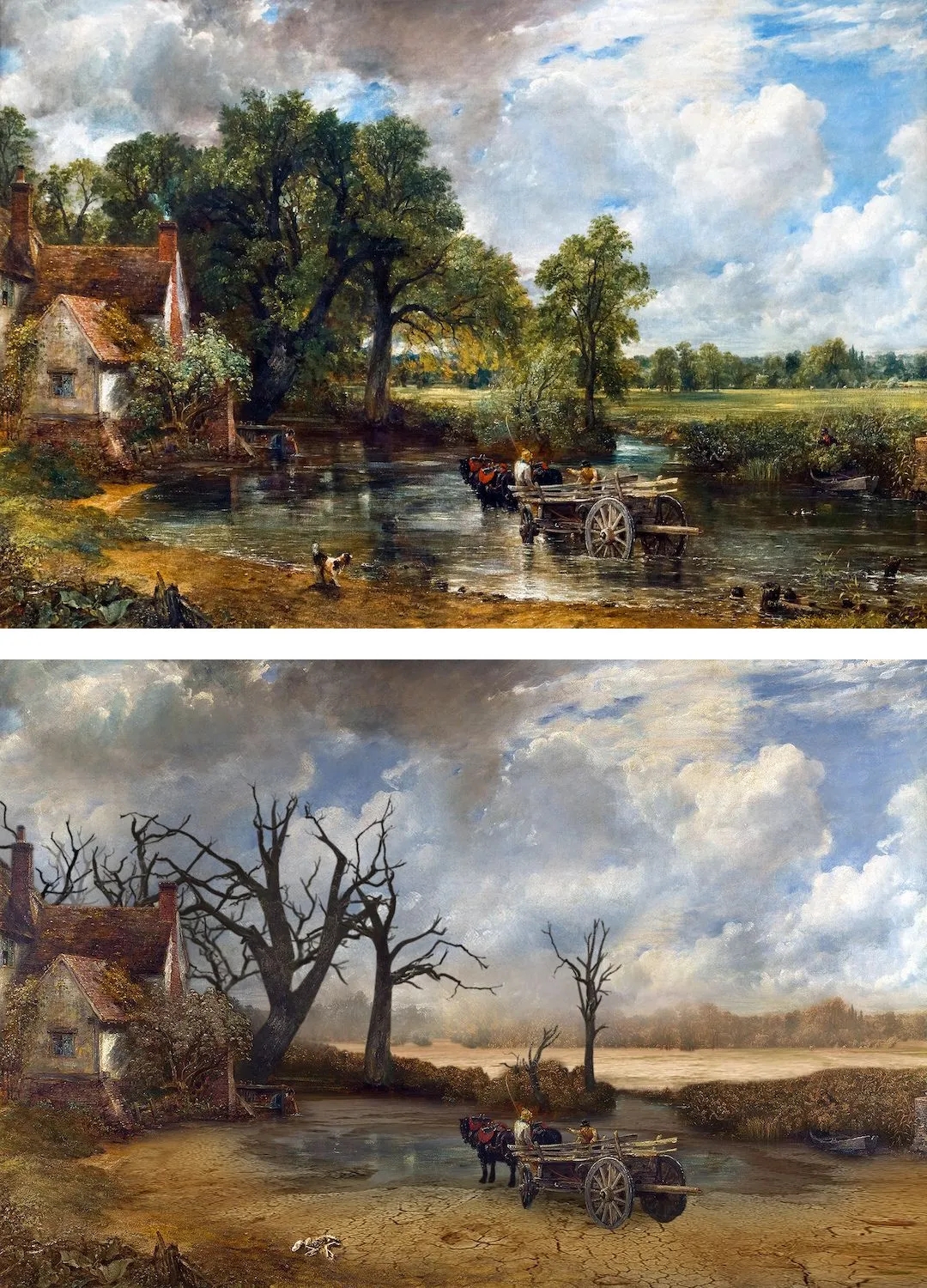 John Everett Millais's Ophelia, when she falls into the water, is not as detached and moving as in Shakespeare's original work, but as if she were stuck in a gutter.

Mengcaii Paper Products is a professional printing and packaging enterprise of environmentally friendly paper hangers for high-end clothing. It is a production-oriented enterprise integrating design, production, sales and development. Professional manufacturers customize paper hangers, paper shoe hooks, paper photo frames, paper silk towel holders, paper sock holders and other environmentally friendly paper products, which are eco friendly and 100% recyclable.
Leave a Reply
Your email address will not be published.Required fields are marked. *